Y5 Staff:
Miss A. Everington - 5E
Mr W.Collington and Mr R.Payne - 5M
Miss E. Mason and Mrs L.Kohut - 5CM
Teaching Assistants: Mrs B.Khan & Mrs K.Cliff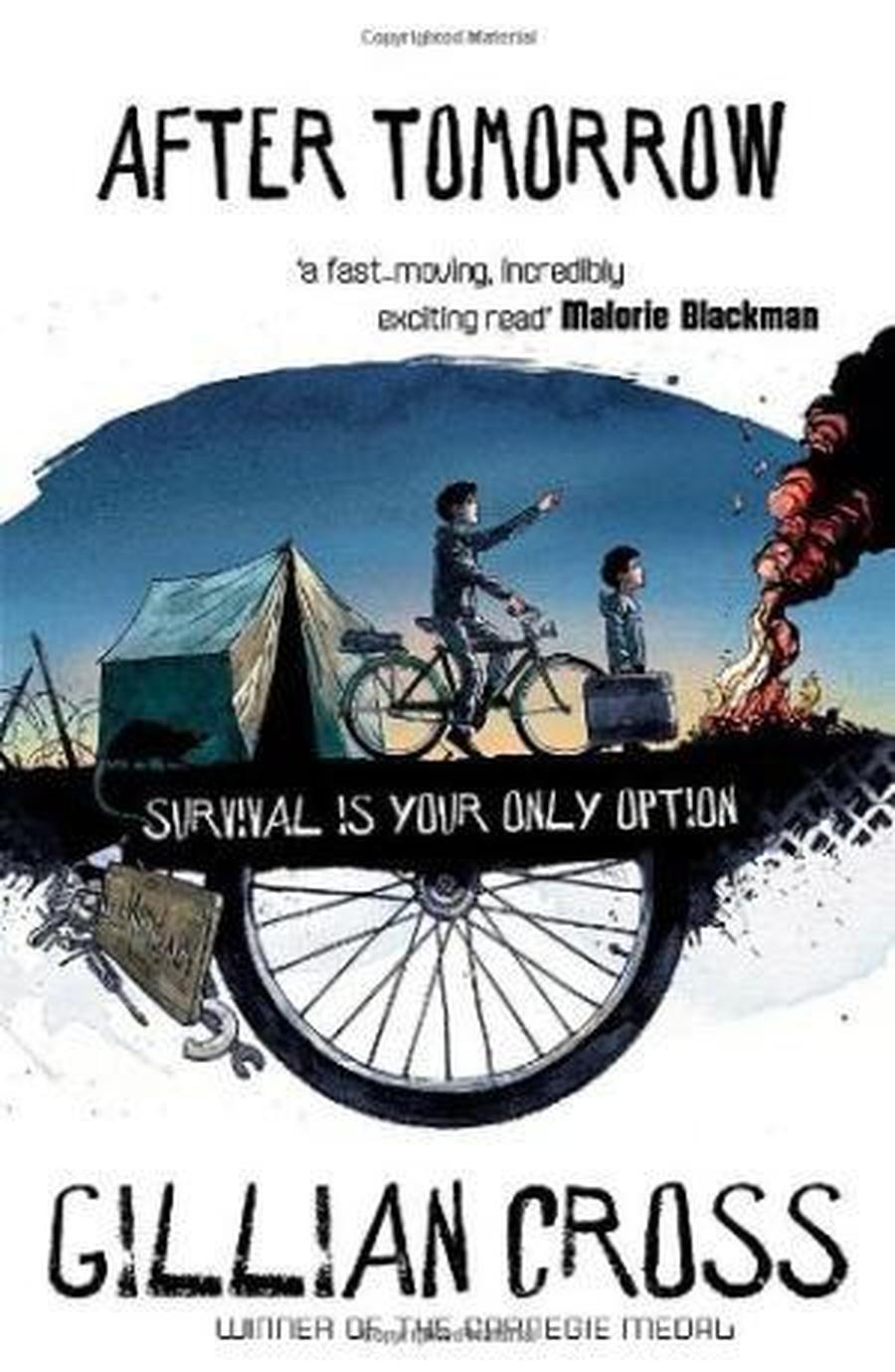 What if you woke up tomorrow and everything had changed?
Money is worthless.
Your friends are all gone.
Armed robbers roam the streets.
No one is safe.
For Matt and his little brother, Taco, that nightmare is a reality. Their only hope of survival is to escape through the Channel Tunnel. But danger waits on the other side... Stay or go. What would you do?
During the next half term, Year 5 will be studying the novel 'After Tomorrow' by Gillian Cross. This is a futuristic novel that tells the story of Matt and his family and their journey to France to escape their life in England following a national crisis.
Have you heard of Gillian Cross or read any of her other books? Some of you may recognise her from the well known 'Demon Headmaster' series. If you want to find out more, click the picture below.
Spring 2 Topic
This half term Year 5 will be studying the topic 'Medieval Mysteries!'
Flee your fields, close your doors and pull up the drawbridge: the dreaded and deathly 'Black Death' is here! Read and write historical accounts, poems and tales and discover the grotesque effects of bugs and bacteria on the human body!
And if you smell a rat, my friend - get out of there!
Then, as we move further through time, we will find out what sort of man would order the beheading of his wife? Was she really that bad?
Travel back in time to the 1500s and meet the terrifying Tudors, a domineering dynasty that changed our history.
Discover an opulent court where dancing and singing goes hand in hand with swift falls from favour - and even swifter falling of heads!
Will you find out the facts or will the evidence from the past bemuse you? How will you find the accused...innocent or guilty?
It's your turn to take part in one of the most famous trials the world has ever known!
What will we be learning as we explore the mysterious medieval time period?
As geographers, we will compare maps from the past to the present and locate and name counties and cities in the UK. On our visit we will use fieldwork skills such as points of the compass and grid references.
As historians, we will study periods of time in British history that goes beyond 1066. Within this we will compare accounts of events and think about how and why they differ. We will look at changes that have happened linked to historical ideas, beliefs, attitudes and experiences. We will also know and sequence key events in time.
As scientists, we will describe the changes as humans develop to old age.
As sportspeople, we will play basketball and tag rugby. We will apply appropriate techniques for the games we are playing, show fair play and sportsmanship and think about ways to differentiate a game using different resources as well as learning all the skills needed to play a competitive game of basketball and tag rugby.
As linguists, we will learn how to have basic conversations in French, including asking how someone feels and how old someone is. We will also learn about French verbs.
As artists and designers we will explore sketch mapping techniques.
As musicians, we will develop an understanding of the history of music and listen to a range of music by a range of composers with attention to detail with increasing aural memory.
In PHSE, we will learn about growing up and the relationships and responsibilities of puberty. We will find out what physical and emotional changes will occur during puberty and how to manage these.
During RE lessons, we will explore the practice of Muslim beliefs and will learn about Muslim people in our own region and consider how and why Islam has grown in the UK.
In computing, we will use Google Earth to explore navigation tools and GPS as well as using the Logo program to create algorithms and procedures.
Below are Year 5's long term and medium term plans for the foundation subjects. These show the topics covered throughout the year and experiences we aim to provide for the children (visits subject to change depending on availability/cost).
The medium term plan for our current topic gives an overview of learning outcomes covered across the curriculum. We aim to teach as much of this as possible, however, there may be some days/weeks where time will be restricted due to other events happening in school. The activities planned aim to engage children and allow them to experience a broad and balanced curriculum alongside teaching skills linked to the foundation subjects (see wider curriculum pages for more information).
Future Visits/Activities
A visit is currently being organised for Year 5 to Eyam on Wednesday 20th March 2019.
The letter sent to parents is attached below.
Please could all consent forms and payment contributions be paid via Agora by Friday 8th March 2019 to avoid the trip being cancelled.
Thank you for all your continued support so far this year.
See below for some photos from our visits so far.
During Autumn Term One, Year 5 have been lucky enough to participate in an Ancient Egyptian Day in school and visited Rackford Meadows for some fantastic outdoor activities. Please have a look at our photo galleries to see what we got up to!