Y5 Staff:
Miss A. Everington - 5E
Mr J. Mason - 5M
Mr W. Collington & Miss E. Mason - 5CM
Teaching Assistants: Miss E. Stoneman / Mrs B.Khan & Mrs L. Fletcher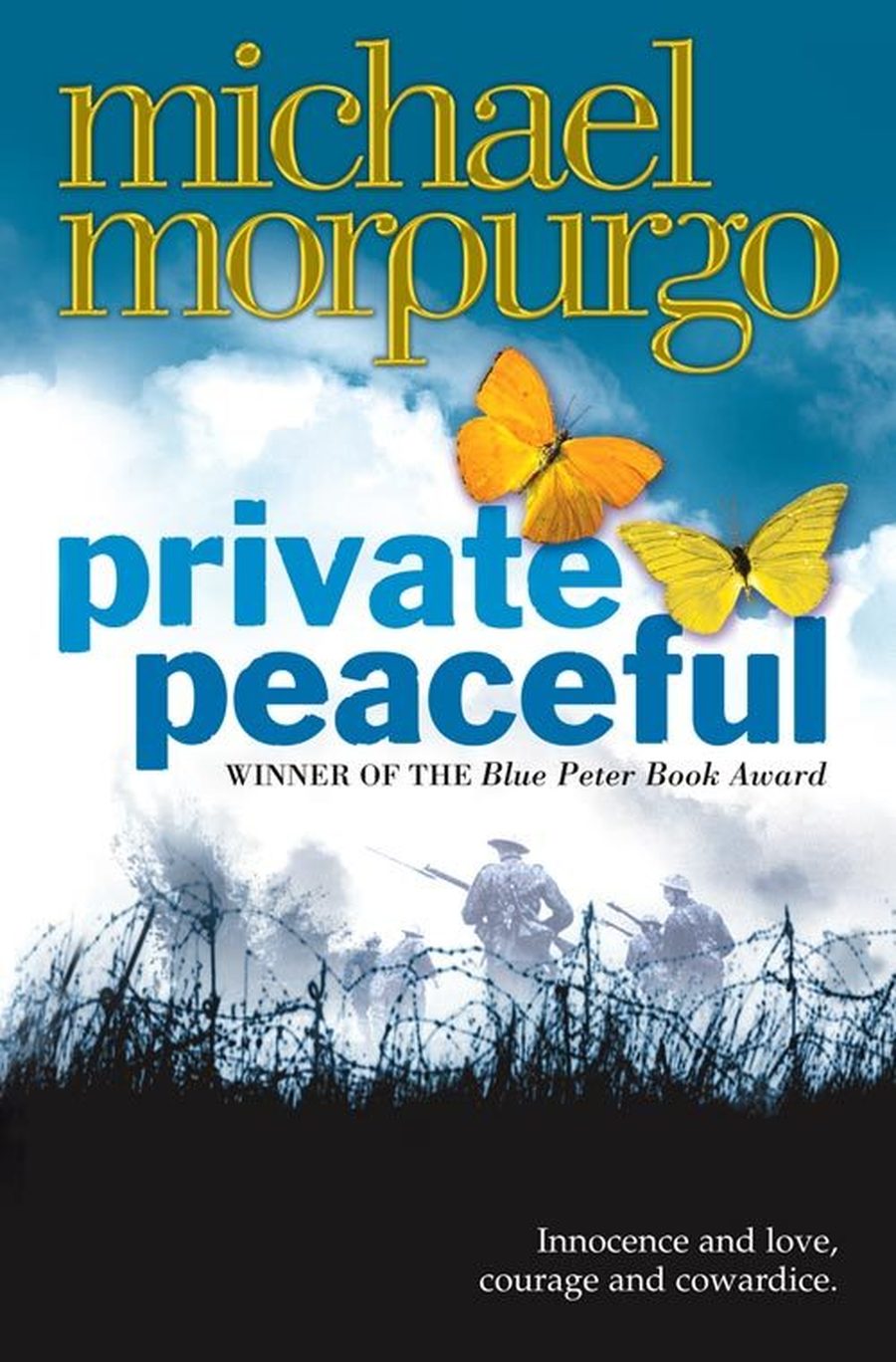 They've gone now, and I'm alone at last. I have the whole night ahead of me, and I won't waste a single moment of it... I want tonight to be long, as long as my life...
During the next half term, Year 5 will be studying the novel 'Private Peaceful' by Michael Morpurgo. It tells the story of Thomas Peaceful who looks back over his childhood memories from the battlefields of World War I.
However, there is a reason why Tommo is reliving these memories as the clock ticks closer to something that will change his life forever...
You may recognise our author this half term? Have you read any of his other books? If you want to find out more, click the picture below.
We are also going to study a very famous poem to kick start our English work this half term.
Do you know why this poem is so important in 2018?
Watch the live reading of the poem - what is it about? Can you find out the translation of the title and see how it compares to the content of the poem?
Cornerstones Topic
This half term Year 5 will be studying the topic 'A Child's War'!
As we study the life and times of WWI through our novel study, we will look at how WWII compares, especially from a child's point of view.
A siren sounds, a building crumbles,a Spitfire zooms overhead. Take cover! It's 1939 and Britain is at war. Deep down in the Anderson shelter, learn why nations are fighting and why child evacuees must take the long journey from their homes and families into unknown territory.
Make do and mend - and cook up a family meal from meagre rations. Delve deep into a bygone era, when loose lips sank ships.
And, as peace is declared, let's get ready to celebrate. Mr Churchill says "It's an unconditional surrender!"
What will we be learning as we delve back into the life and times of World War II?
As geographers, we will locate and name main counties and cities in England, compare land use maps of the UK from the past to the present. We will also use the eight points of a compass, four-figure grid references and use the symbols and keys of Ordnance Survey maps in order to build up knowledge of the UK in the past and present.
As historians, we will study different sources of evidence to find out about life during World War II and sequence key events. We will use relevant terminology and labels to make comparisons between different times in the past.
As scientists, we will recognise the effects levers, pulleys and gears have in relation to forces.
As sportspeople, we will play basketball and study dance and gymnastics to practise running, jumping, throwing and catching skills, develop control, technique, co-ordination and fluency to move fluently and expressively. We will create complex sequences of a range of movements and manipulate equipment as well as the body in a sequence. When performing, we will reflect on our performance and modify our work to show improvement of skills.
As linguists, we will learn French classroom instructions and write letters to Father Christmas.
As artists and designers we will manipulate materials to create objects through designing and evaluating and create working lever and pulley systems.
As musicians, we will use and understand staff and other musical notations as well as listen and respond to high quality live and recorded music from different traditions and great composers and musicians.
In PHSE, we will learn about political literacy and citizenship and consequences of inequality. This will involve learning about rights, rules and responsibilities, understand how the media presents information and look at inequalities across the globe.
During RE lessons, we will learn about the Five Pillars of Islam and find out about Muslim children's lives and learn to respect how their culture and beliefs may be different to our own.
In computing, we will use 'Scratch' to learn some computer programming, use a 'Greenscreen' to present information and explore and compose music using a multimedia programme.
Below are Year 5's long term and medium term plans for the foundation subjects. These show the topics covered throughout the year and experiences we aim to provide for the children (visits subject to change depending on availability/cost).
The medium term plan for our current topic gives an overview of learning outcomes covered across the curriculum. We aim to teach as much of this as possible, however, there may be some days/weeks where time will be restricted due to other events happening in school. The activities planned aim to engage children and allow them to experience a broad and balanced curriculum alongside teaching skills linked to the foundation subjects (see wider curriculum pages for more information).
Future Visits/Activities
On Tuesday 6th November, Year 5 will be visiting Kelham Island Museum.
Below is the letter sent home with details about our visit. Children are also invited to dress up for the visit too.
Please be aware that all medical consent forms need to be returned before the visit otherwise your child will not be allowed to leave school premises.
Also, Kelham Island Museum is not heated therefore, please ensure that your child has a coat and shoes suitable for the time of year.
During Autumn Term One, Year 5 have been lucky enough to participate in an Ancient Egyptian Day in school and visited Rackford Meadows for some fantastic outdoor activities. Please have a look at our photo galleries to see what we got up to!