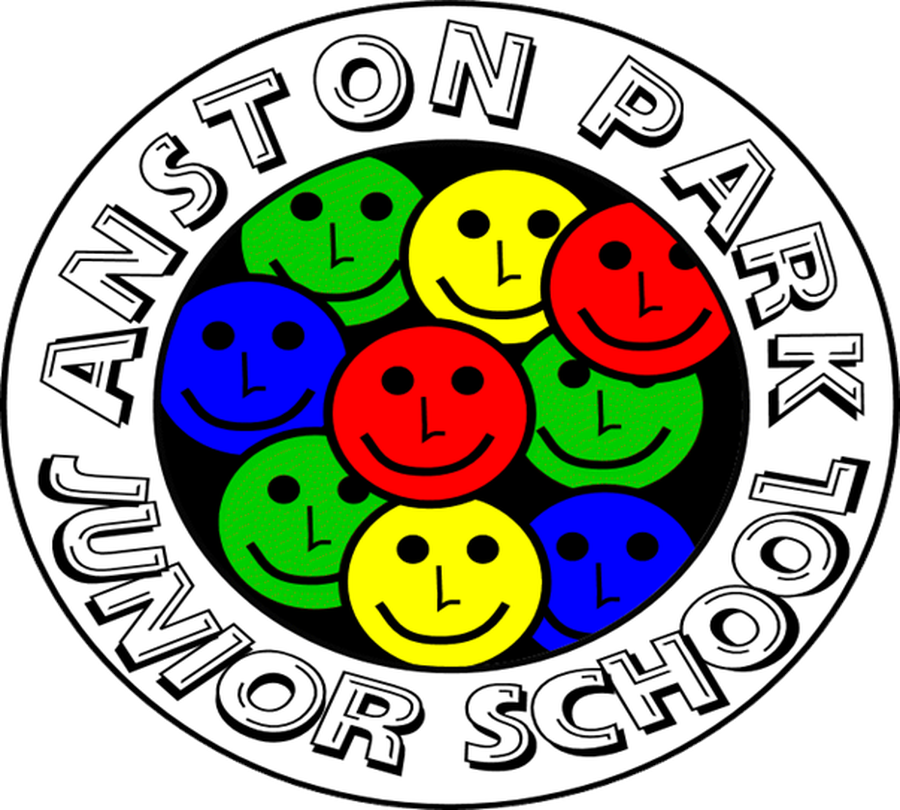 Welcome to the Year 4 webpage
Year 4 Teaching Staff:
4CM: Mr W. Collington and Miss. E. Mason
4F: Miss. H. Fenton.
4FR: Mr. A. French.
Y4 Teaching Assistants:
Miss. E. Stoneman
Welcome to our webpage. Here, you can find out about some of the learning taking place this term.

Our class novel this term is...
This term's book is by Anthony Browne. Do you remember him?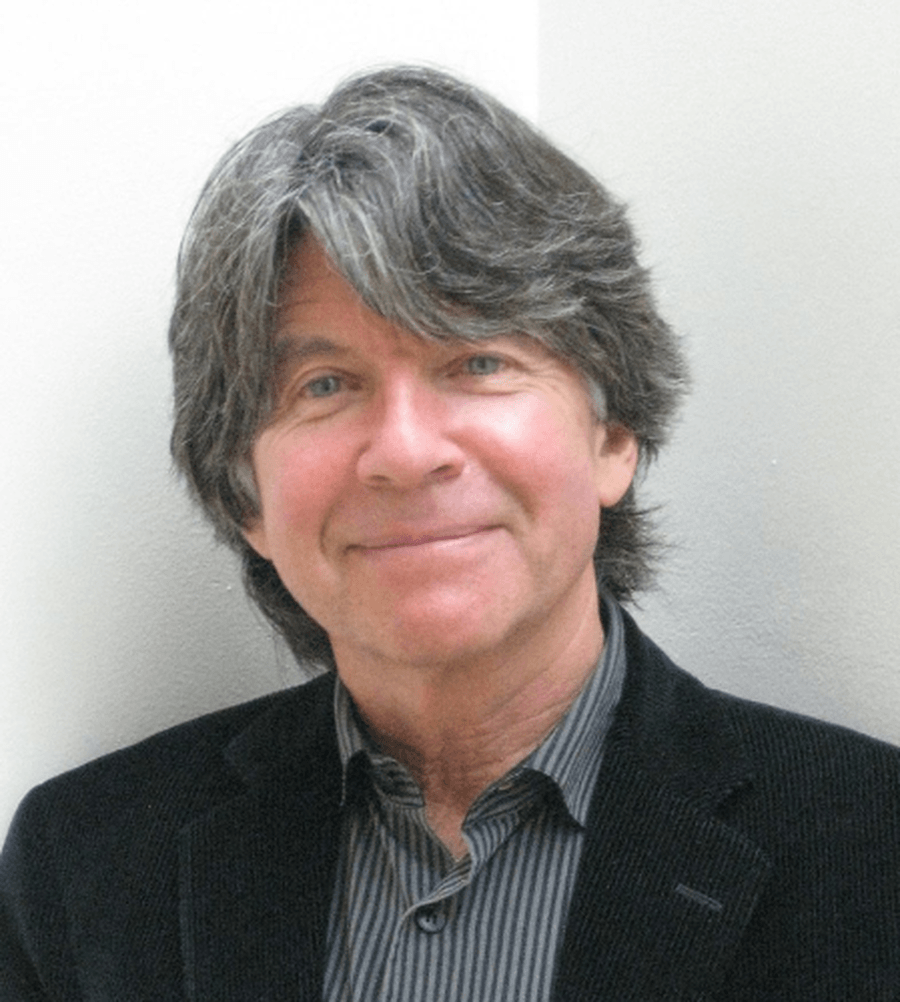 Anthony Edward Tudor Browne was born on 11 September 1946, in Sheffield. He is a British writer and illustrator of children's books. He enjoyed art as a child and when he left school he wanted to become a painter but to earn money became a medical illustrator (drawing pictures of the human body - and its insides) for hospitals. After that, he started to design greetings cards before writing and illustrating his own books.
Can you remember which animal often appears in his books? (Anthony is a big fan of these animals!)
You might remember if you think back to these books that you read in year three:
Which of these books was your favourite?
Tunnels are mysterious places. They could lead to all sorts of places. Have a look at these tunnels. Where might they lead to? What clues are there?
Some tunnels are new and some are very old. Some of these tunnels are hundreds of years old. The last picture looks very mysterious but it's actually a picture of a tunnel underneath Sheffield. You might have walked over the top of it without even knowing.
The story is about two children - a brother and sister who don't really get on. One day, they are sent out by their mother to play. They come across a mysterious tunnel. What happens on the other side? You'll have to wait and see. Remember to keep an eye on Anthony Browne's amazing illustrations - you never know what you might find...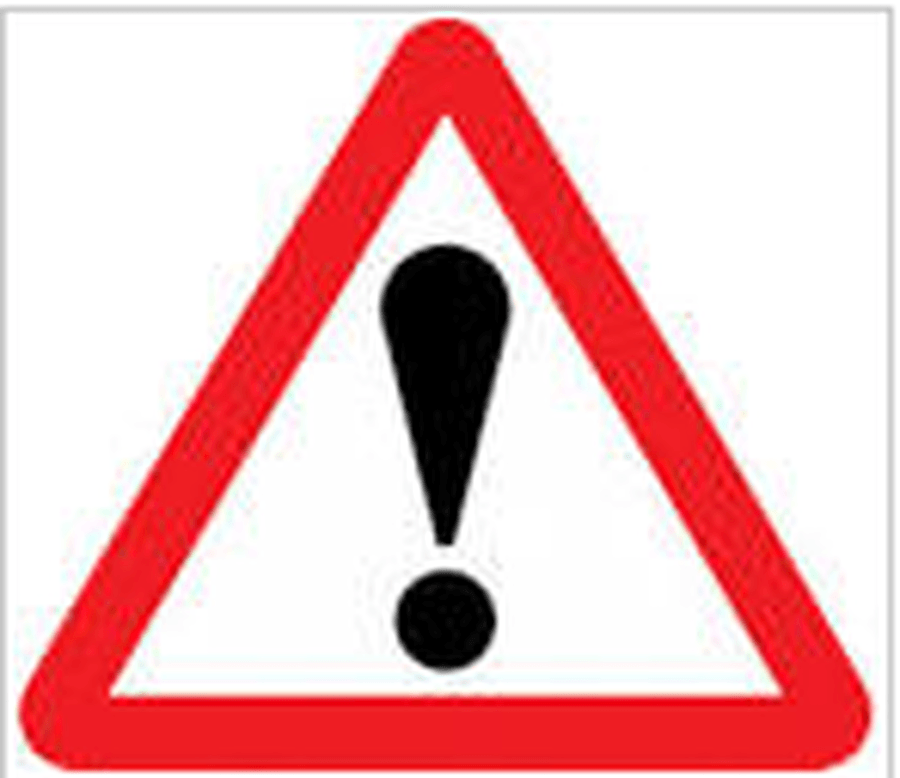 Don't do what the children in the story did! Never go into a tunnel that doesn't look safe or if you don't know where it leads. Always check with a trusted adult before you explore anywhere.
The characters in the story didn't follow this advice and they ended up in a tricky situation. They soon found out that, even though they don't always get along, they soon needed each other more than they ever realised...
We all fall out with family and friends. By the end of the story, you will have understood the moral of the book. Here are a couple of clues. Listen carefully...
As you read our novel, think about our VIPERS skills. Are there any questions that you can think of to challenge other people's thinking?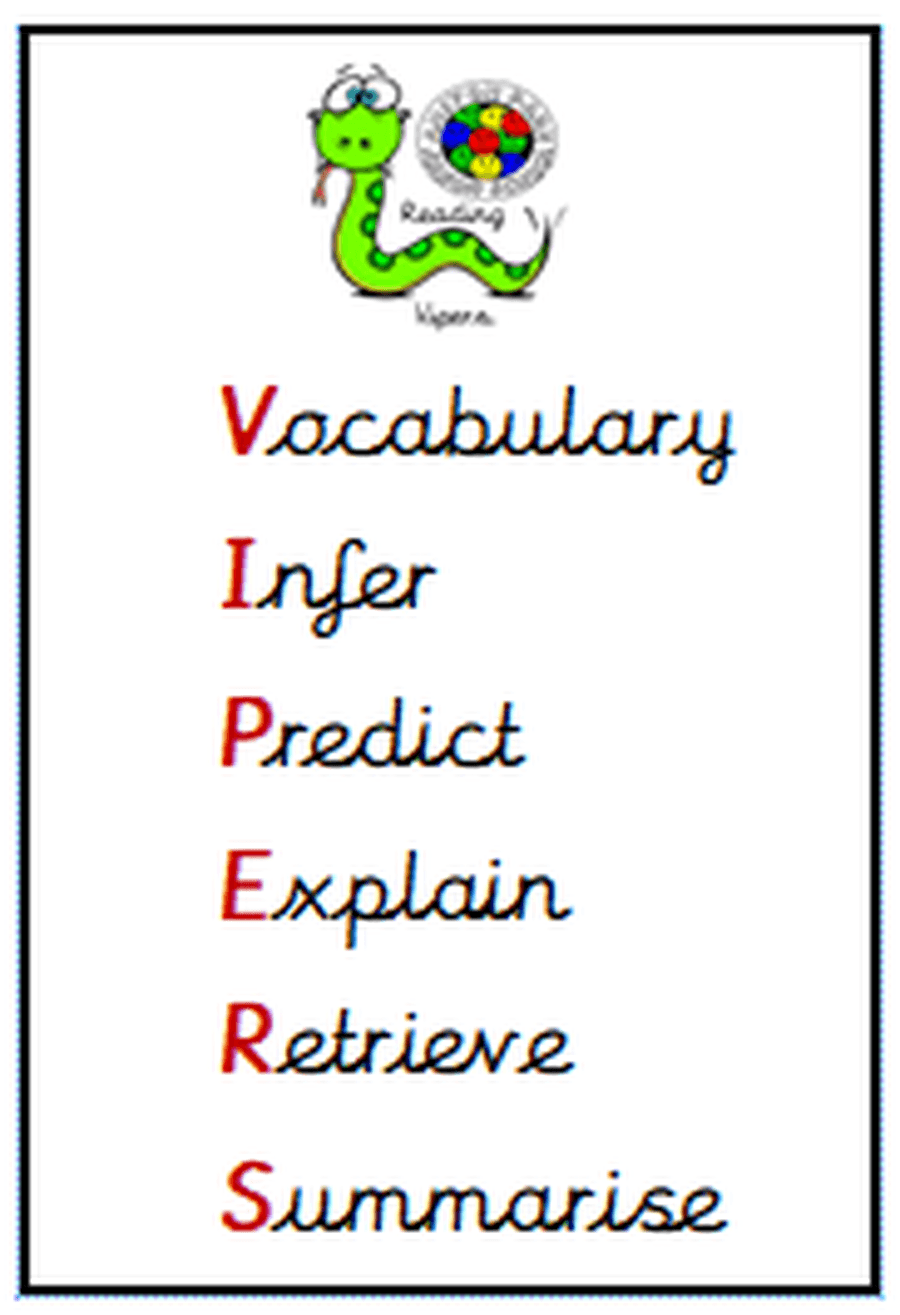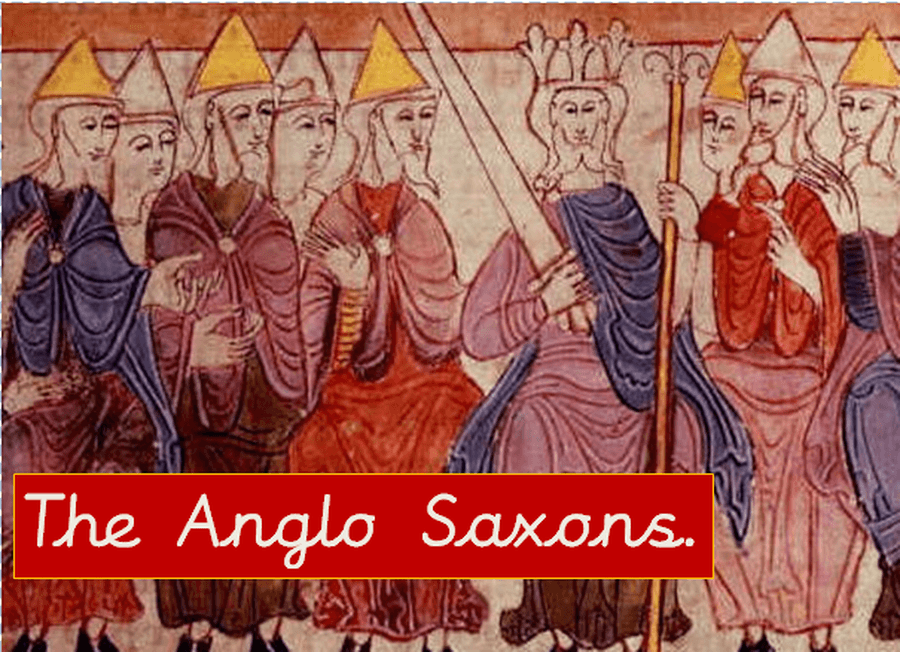 We've learned about the Celts, Picts and Romans. We found out about how the Romans left Britain to return to Rome but what came next?
Because a lot of what happened after the Romans left Britain was not recorded it is often known as the 'Dark Ages' because we do not know a great deal - we are 'in the dark.'
As historians, we will be finding out about what we do know about the next period in British history - the Anglo Saxons.
The Anglo Saxons were groups of people who invaded and settled in Britain after the Romans left: There were the Angles, the Saxons and the Jutes. They all founded a number of kingdoms of Anglo-Saxon England. The name Angle is the root of the name England ("land of Ængle").
The Anglo Saxons changed the way people in Britain lived. They also left behind legacies that remain today. Have you ever heard of a place called East Anglia? Some of our days of the week come from the Anglo Saxon period named after Woden, King of gods; Thunor, god of thunder; Frige, goddess of love; and Tiw, god of war.
These four Anglo-Saxon gods gave their names to the days of the week. Tiw became Tuesday, Woden - Wednesday, Thunor - Thursday and Frige - Friday.
Here is a map of some of the settlements.Can you work out where Essex and Sussex might be? (Think East Saxon and South Saxon...)
Even some of the words we use today are Anglo Saxon. In fact, lots of them are!
Be careful though. Words change. Originally, 'sorry' meant full of sorrow - not quite how we use it today. We would still also recognise lots of other Anglo Saxon words - even though the spellings have changed a little.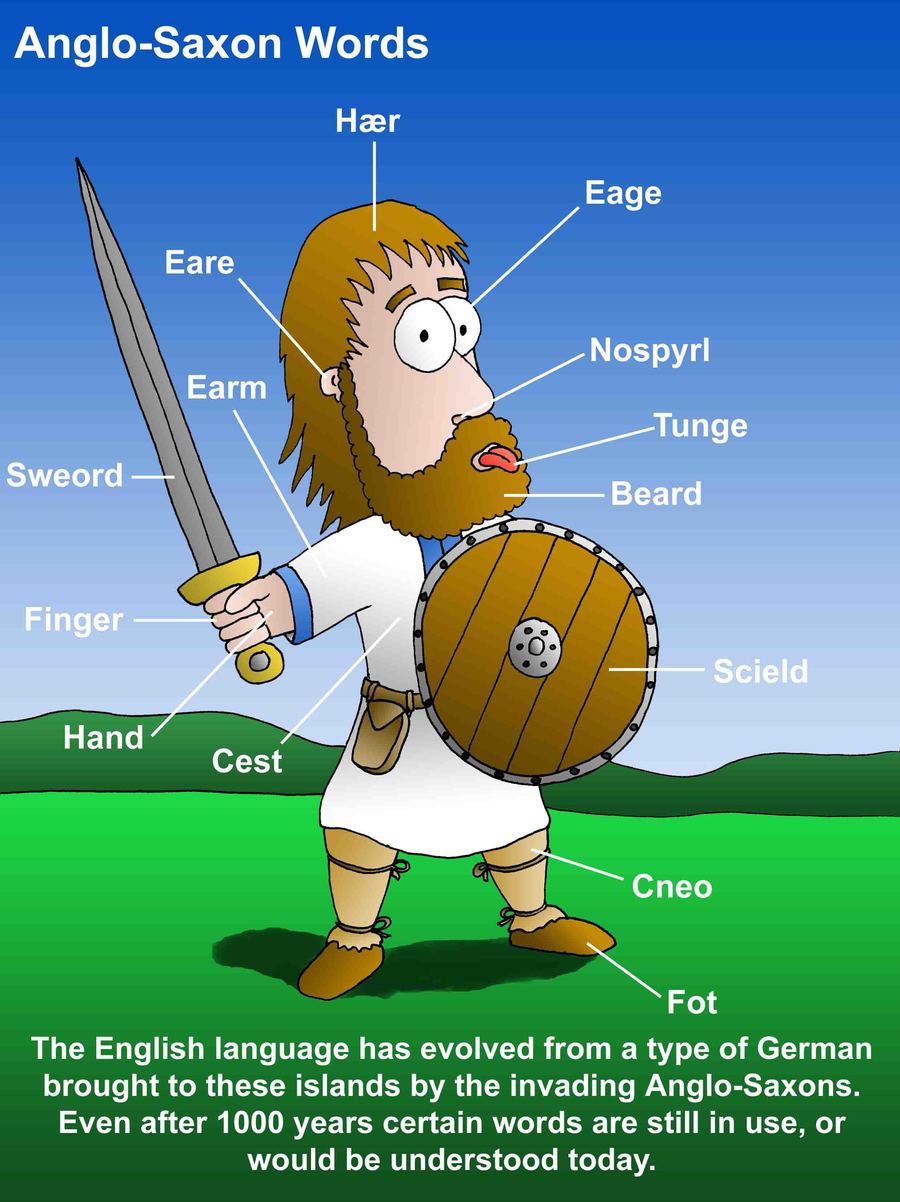 Here is a song about the Anglo Saxons.
Do you think everyone thought that they were strong and brave and true? Did everyone like them?
What do you think the Celts that lived in Britain before the Anglo Saxons invaded thought about them? We will be finding out what happened to the Celts and Picts after the Anglo Saxons invaded and why the Anglo Saxons decided to invade in the first place.
Click on the image of Woden below to visit the Dorling Kindersley website where you can find out lots of information about the Anglo Saxons.
You can also find out lots of information, including video clips, by visiting the BBC Bitesize page. What can you find out that you didn't know before? Click on the image of the map for a link to the page. You can find out about how they were ruled, what they believed in and how they lived.
If you want to practise some air guitar, here is a song about the Anglo Saxons. What does it tell us about this group of people? How can we find out if the information in the song is true?
Who came first? The Romans or Celts? Where would you place the Anglo Saxons on a timeline? What about the Vikings?
Remember that good historians ask questions. Do you have any questions about our topic that you would like to find the answer to? You can submit them below.
Below is the Long term and medium term plans for the wider curriculum. This provides an overview of the topics covered throughout the year and the learning experiences that we aim to provide for children.
We aim to teach as much of this as possible, however, there may be some days/weeks where time will be restricted due to other events happening in school. The activities planned aim to engage children and allow them to experience a broad and balanced curriculum alongside teaching skills linked to the foundation subjects.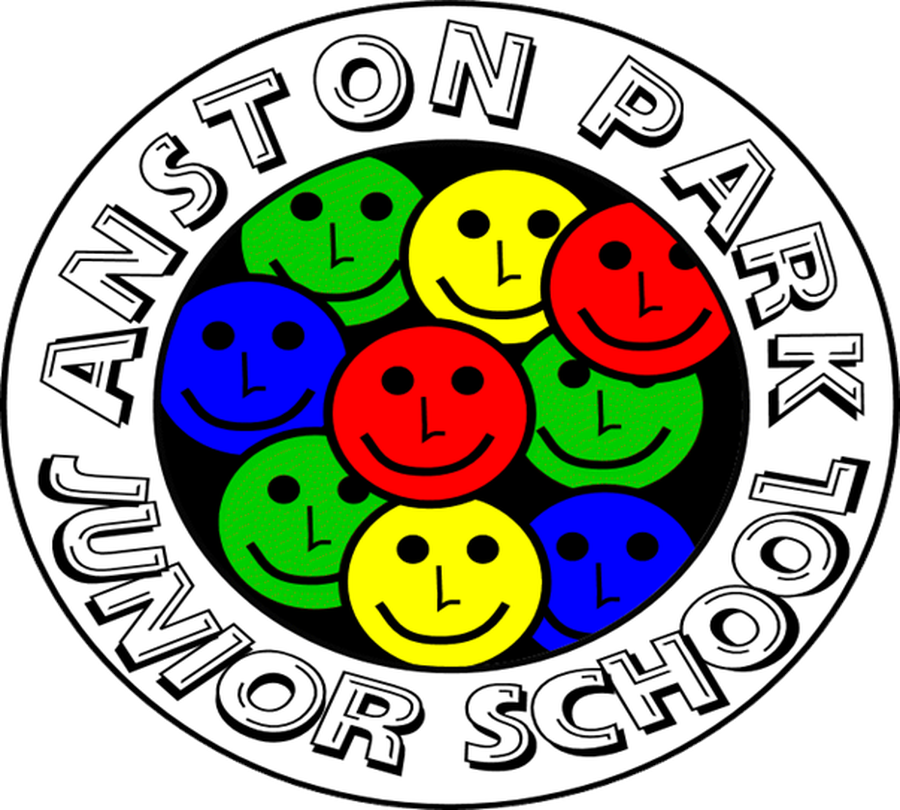 It is an expectation that each week all children read at least 3 times per week, practise their times tables and learn their new spelling rule(s).
Reading record books will be checked weekly. Maybe you will become one of Year 4's reading champions?

Times tables will be tested in school weekly, your child should know which times table they are working on. By the end of year 4, all children should be able to quickly recall times table facts up to 12 x 12. Remember to use Times Tables Rockstars - if your child loses or forgets their login, please contact your child's class teacher.

Children will be taught new spelling rules every Friday. These will be taught in class and then a supporting sheet will be sent home that day. All information about the new rule will be explained on their spellings sheet. Please encourage your child to learn as many words as possible that follow the spelling rule so that they can apply this rule to a wide range of words. On the following Thursday, children will take part in a short spelling dictation which will check their understanding of the rule.
If you would like to take part in any other home learning activities please explore our homework menu. This is a list of topic related activities you can complete at home. Please encourage your child to share any home learning with us in school - we would love to share it with other children and display their efforts in school.
Our homework menu is here:
If you are going to use the internet for any research, stay safe. Remember what we learnt about e-safety and staying safe online...
The Long Term Plan for the academic year 2019-2020 will appear here soon.
Other Useful Information
PE
All of Year 4 will have 2 PE sessions a week. One of which is likely to be with our sports coach - Mr Smith.
Please ensure that your child brings their PE kit in on a Monday and keeps it in school until Friday (when it will be sent home for washing etc). This is very important as sometimes timetables may need to be changed and PE sessions may be on alternative days.
Also, please consider what you send your child with for PE, particularly during winter months as we will continue to do PE outside whenever possible.
Please be reminded that no jewellery should be worn and earrings MUST be removed before PE by the child for any PE session. Long hair needs to be tied back.



USEFUL WEBSITES:
This website has a good range of free games to practise phonics and decoding skills.
http://www.sentenceplay.co.uk/
This has a good range of games which support your child's spelling and grammar skills.
https://www.activelearnprimary.co.uk/login?c=0
Bug Club is a fantastic website for reading – children have their own log in and their teacher will assign books or games to read and play - your child's log in details will be in their organisers
This is a fun and competitive way for your child to learn their times tables. Look out for new competitions and challenges. Try to top your class leader board.